Stillwater Fly Fishing Master-class – August 10, 2022
Join Umpqua Signature Fly Tyer. Landon Mayer, with Phil Rowley, for a stillwater fly fishing master-class on Wednesday, August 10th, at 5pm. This class will cover fly-tying, rigging, and presentation tips for both gentlemen's signature, proven stillwater fly patterns, like Mayer's Mini Leech and Candy-Shop Callibaetis, and Rowley's Mirage Soft-Hackle Scud. This will be a 3- to 4-hour deep dive of a class. Seating is very limited – only 10 students max (some slots already sold!). Call the Peak Fly Shop at (719) 260-1415 or stop by the Colorado Springs class to sign up. Cost of class is $100.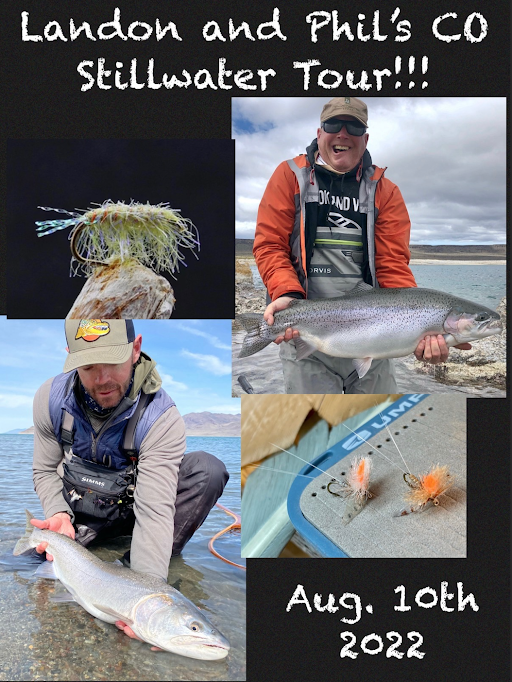 Introduction to Fly Fishing Class
Our Introduction to Fly Fishing Classes are up and running for 2022. If you, or someone you know, is interested in learning the art of fly fishing, or just needs a refresher course, there is no better way to set about it than this class. Each class is two sessions. The first, on a Thursday evening from 6pm to ~10pm, covers equipment, rigging, knots, reading water and basic entomology – a comprehensive classroom session with small class size, a fantastic manual (that is yours to take home), and a thorough and practiced approach to teaching fly fishing. The following Saturday students will head to the river to fish public waters – the same waters you'll fish as an area resident. No stocked ponds that don't teach you about wild trout! The river portion is a half-day trip with a heavy focus on education. All equipment is provided; no need to buy any gear. The class is $225.00 per person for both sessions. Classes are limited to 6 students each.
Introduction to Fly Tying Class
Learn the basics of tying your own trout flies. Class consists of either two three hour sessions or one six hour session. Students receive lots of hands-on instruction and students will be loaned a vise and tools to use during the class. In addition, we give all students a 10% discount on all fly-tying purchases during the class! Cost of class is $75.00 and advanced registration is required. Class size is limited to six students. Call either location for more information, or to sign up! Already know the basics? Let us customize a class to fit your needs and skills.
Choose the Perfect Class that Fits Your Schedule.
Intro to Fly Fishing
$225
March 31 & April 2
April 7 & April 9
April 28 & April 30
May 5 & May 7
May 19 & May 21
June 2 & June 4
June 16 & June 18
June 30 & July 2
July 28 & July 30
August 4 & August 6
August 18 & August 20
September 1 & September 3
September 15 & September 17
September 29 & October 1
October 13 & October 15
Intro to Fly Tying
$75
Contact Us for a Private Class Anytime of the Year